Jicama is a slightly sweet crunchy root vegetable and adds a great flavor to autumn coleslaws. It's a lovely addition to the vegan Thanksgiving table! Ask for it at well stocked supermarkets and produce stands. If you can't find it, substitute crisp white turnip.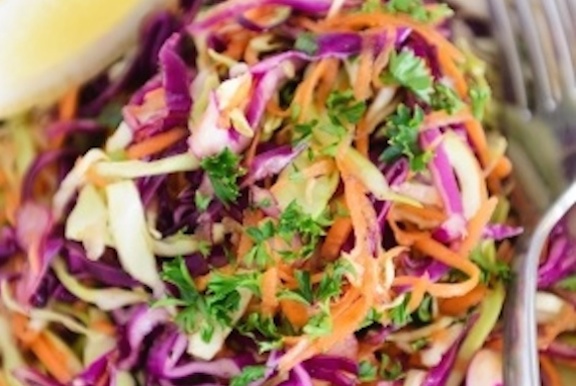 Serves: 6 or more
3 cups red cabbage, thinly shredded
3 cups white cabbage, thinly shredded
1 cup peeled, thinly shredded jicama
2 scallions, sliced
1/4 cup chopped fresh parsley or cilantro
Dressing:
1/2 cup vegan mayonnaise
2 teaspoons prepared mustard
1 tablespoon agave nectar or maple syrup
Juice of 1/2 orange
Juice of 1/2 lime
Salt and freshly ground pepper to taste
Combine the cabbages, jicama, scallions, and parsley in a serving bowl and toss together.
Combine the dressing ingredients in a small bowl and whisk until well blended. Pour over the cabbage mixture and toss well. Cover and refrigerate until needed.
Jicama slaw recipe
Here are lots more creative and colorful slaw-style salads.
Here are more recipes to enjoy a Vegetarian and Vegan Friendly Thanksgiving.
Find more ways to make Special Occasions and Entertaining easier and healthier.
Read more at http://www.vegkitchen.com/recipes/jicama-coleslaw/#V0gDdVK2vHmc2YLh.99